Upcoming Events
{{e.start| dateFormat:"MMM"}}

{{e.start| dateFormat:"dd"}}

{{e.location}}
Enjoy a Memorable Night Out at Our Adult Club in Brisbane
If you wonder where you should plan your next guys' birthday party or bucks' night, you don't have to look far. With our adult club in Brisbane, we have some of the best exotic dancers for your enjoyment. The hottest barmaids and waitresses to help your night run smoothly and if that is not enough, try our booby burgers, wings and fries; you won't regret it.
Tips Regarding Adult Clubs
There are some ways you can make your friends' birthday or bucks' night just a little more special without having to jump around from one place to the next. Adult clubs in Brisbane will never disappoint, but you are probably looking for something more, well no need to worry any longer as we already have your night sorted before you even called us. Our venue has everything you could need for one epic night. Some tips to remember, however, are:
Even though we have everything you need, we do require you to make your plans ahead of time; this is not a time for you to see how things go and take it as it comes. We want your night to be unforgettable, but for us to achieve that, we need to know how many of you are coming, how much food to prepare, and what special lady or ladies you want for your table.
You can pick a package fit for you and your budget. You can always book a table next to the stage for our wonderful shows, or if you want some more privacy, you can book the VIP room for a maximum of 35 of your closest friends. If you are looking for something less vibrant, why not just book a VIP table for 10 of your mates? With the VIP room and VIP table, you will enjoy the luxury of having your private bar and choose one premium spirit and soft drink mixers.
Why not have the buck enjoy his last night as a single man by getting him on stage with one of our professional dancers and have her whip him, strip him and ride him like a horse, all while you have an up-close and personal view of the show.

Creative Ways to Use Our Adult Entertainment in Brisbane
Known as one of the most popular adult clubs in Brisbane, we don't merely have some of the best strippers for your entertainment; we have many different qualities which make us unique.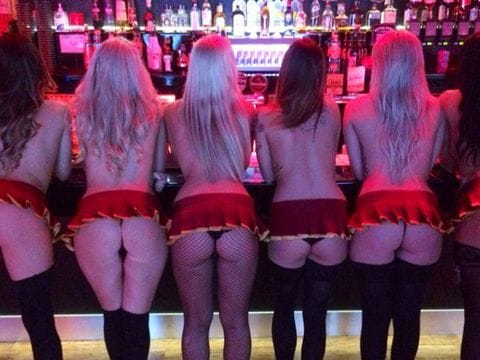 If you enjoy shooting some pool you don't have to leave as we have three pool tables for your enjoyment, 15 TVs to benefit you with all the sports FOX sport has to offer.
Has it been a long week for you, and you just feel like relaxing a little more with your boys than just drinking? We have a professional remedial massage therapist to take away the week's stresses.
Another way we make your visit just that much special is by offering barber services, like buzz cuts and scissor cuts, by our gorgeous topless lady barbers.
About The Grosvenor
The Grosvenor offers you professional, high-quality service for all your adult entertainment needs. We are the go-to club for the best bucks' nights and birthday parties, not to mention corporate events, depending on the type of company culture you share. We offer you lap dances and table dances, with all our tables made explicitly for the girls to dance on.
Contact us today to book your next bucks' night, birthday party or corporate event with us.